Here are some examples of images that might have value for taxonomic illustrations. My understanding is that this kind of image would complement classic pen and ink drawings nicely.
Blue and Purple Sages:
These blue and purple flowers represent more than bumblebee plants. The Chinese sage is a typical bumblebee plant, and is big enough for its pollinator to enter the tube the same way they do with large flowered Penstemon species. The other three sages have also evolved for hummingbirds. On these flowers, bumblebees cheat by poking a hole in the flower by its calyx to get at the nectar. Many of the smaller blue flowered species are good for honeybees, especially those that form dense spikes.
Red Tubular Salvias: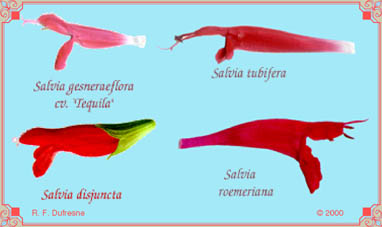 These are all typical red flowered American Salvia species designed for hummingbird pollination. Hummingbirds will visit all but the smallest blooming Salvias, including other colored and shaped flowers. Their clear favorite in North Carolina is the blue flowered S. guaranitica, preferred over all other flowers that I have observed, probably because it is highly floriferous for most of the growing season..
Color Variation in Salvias:

Flower color in Salvia species and hybrids reach every color variation except the blue to green range. While rare, yellow and orange flowers are known. There are a number of multi-colored flowers, especially amongst plants of S. microphylla and S. greggii and its true blue relatives.
Note: these images are at variable scale

Links to Other World of Salvia Pages: